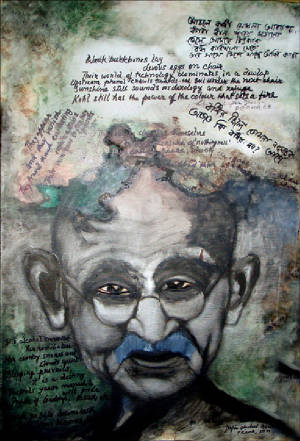 Gandhi & borders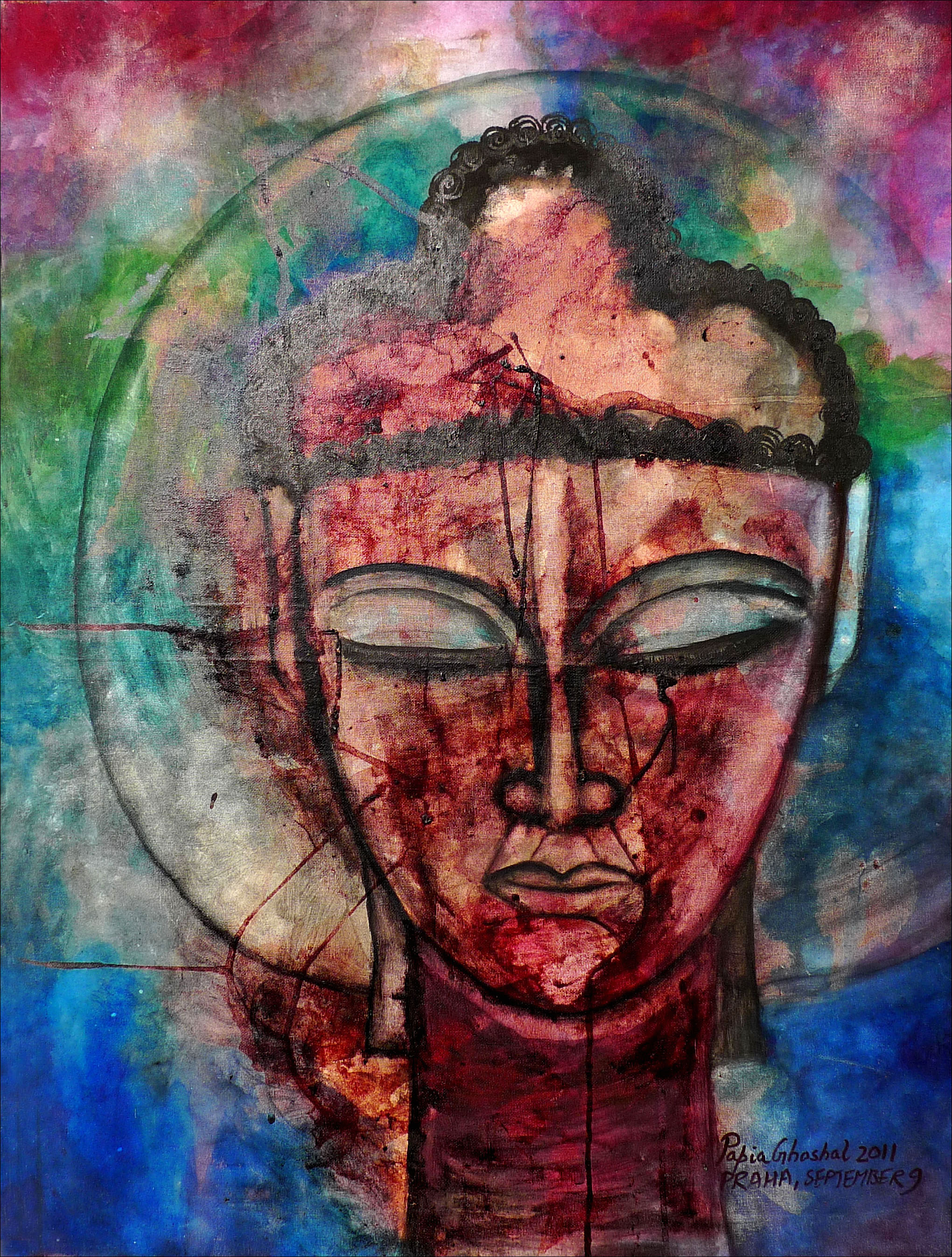 buddha wounded
Collect Papia Ghoshal originals at:
GALLERY INDIAN IMAGES, KOLKATA
GALLERY GANGES, KOLKATA
EMAMI CHISEL ART, KOLKATA
ACADEMY OF FINE ARTS, KOLKATA
KOLKATA ART GALLERY, KOLKATA
CHITRAKOOT ART GALLERY, KOLKATA
SURANANDAN BHARATI, KOLKATA
ICCR, DELHI
SHANTA ART GALLERY, DELHI
GALERIE MIRO, PRAGUE
BROOKS GALLERY, PRAGUE
LIVINGSTONE.CZ, BRNO
ARTIZANA.CZ, PRAGUE
SAATCHI GALLERY, LONDON
JOHN BLOXHOM GALLERY, LONDON,
THE NEHRU CENTRE, LONDON
THE MISCELLANY FOUNDATION, LONDON
SMB LTD, LONDON
RECENT :
GALLERY 'INDIAN IMAGES' participated in ART PRAGUE 2013, Franz Kafka House Prague
Artists: Papia Ghoshal, Prakash Karmakar, David Gibson & others
London Nehru Centre 2012:
EAST & WEST-tribute to 150 YEARS of SWAMI VIVEKANANDA. Artists: Papia Ghoshal, Prakash Karmakar, Bijan Chowdhury, Harry Cardross, David Gibson & others.
Papia Ghoshal Solo: at Nehru Centre London 'Borders & Shunya' July 2012
Exhibition of paintings about the artist's recent journey over land betwen Europe & India via Turkey, (Van, Hakkari, Antakya etc) Syria, Afghanistan & Pakistan.
JULY 10: Wild Smell of Lantana- LONDON LAUNCH of the 5th poetry book of artist Papia Ghoshal by Lord & Lady Sudeley, Lord Cardross, Lord Mereworth, Christopher Arkell & director Sangeeta Bahadur at the Nehru Centre.
Also the Spring/Summer edition of
The London Miscellany
was launched in the presence of Lord Sudeley, the advisor, the publisher Mr Christopher Arkell & the International editor, Miss Papia Ghoshal
of
The London Miscellany
at the Nehru Centre on June 10, 2012.
BANGLA ACADEMY, WEST BENGAL, INDIA-APRIL 1, 2012: INDIA release of ''Wild smell of lantana''- new poetry book of papia ghoshal
alongwith the launch of The London Miscellany's Spring Edition-
Minis
ter Partha Chatterjee, Sudarshan Ghosh Dastidar, film maker Raja Sen & Ashoke Biswanathan, poet Arun Chakraborty & many other dignitaries graced the occasion.
RECENT EVENTS
GO KAMERA FEST (jan 12-15, 2012)- PAPIA GHOSHAL SHOW with paintings & speech by artist papia ghoshal on Sunday Januray 15, hosted by LIvingStone, Brno, Cz Rep.
RABINDRANATH TAGORE'S 150 YEAR ANNIVERSARY AWARD BY KARUVASH TO Papia Ghoshal on
December 27, 2011 at Jibanananda Sabhaghar, Bangla Acedamy, Kolkata.
EMBASSY OF INDIA, CZECH REPUBLIC organised
''Homage to Rabindranath Thakur through Bengal Art'' - a papia ghoshal solo exhibition at
Brno Kultural Centre (BKC), galerie 10, Czech Rep.
Exhibition closed on Monday, August 1, 2011
June 29 - European Atlantic Group's
Guest Speaker - Papia Ghoshal at The House of The Lords, followed by her Solo Exhibition of Paintings at The National Liberal Club, London.
May 17, 2011 -Papia Ghoshal was the guest artist in the BRITISH LIBRARY, London -on the event of :
THE FLYING MAN, directed by Mukul Ahmed.
A stage Show on Tagore's poems & music.
Paintings of Papia Ghoshal were installed on the stage.
April 26- 30, 2011-group show of paintings & photographs from Bengal at London Nehru Centre-
bijan chowdhury, prakash karmakar, papia ghoshal, david gibson, ramkumar manna, yakub chitrakar, ashoknath dey, shantanu chakraborty & marina wright
BENGAL FESTIVAL's on the event of Tagore's 125th anniversary was organised & co sponsored by THE LONDON MISCELLANY, LONDON & curated by ''gallery indian images'', kolkata
SOLO EXHIBITION OF papia ghoshal titled ''tantra, the void'' at london, nehru centre from April 18- April 21, 2011.
opening ceremony was graced by Lord & Lady Sudeley, Lord Cardross, Monika Kapila Mohta (director Nehru Centre), Christopher Arkell, Jack Pizzey, Dr Arnold Harvey & many more prominent personalities.
recnt past - MARCH 29, 2011, POTALA, PRAGUE:
CONCERT -
PAPIA & BAISHNAV TANTRA
( indian meditational songs by papia & group)
PAST EVENT:
Nehru-Wangchuck Cultural Centre- February 2011
''tantra, the void'' a solo exhibition by papia ghoshal.
inaugurated by Ambassador Pavan Kumar Varma.
GALLERY ''INDIAN IMAGES'' organises exhibition of recent paintings by papia ghoshal from January 12-February 7, 2011 at Golf Gardens, 60/128 haripada dutta lane, Kolkata- 7000 33.
papia ghoshal solo exhibition in kolkata- academy of fine arts from november 24-30, 2010.
papia ghoshal worked as an actor from nov 30 in the feature film 'sadhana' directed by amitava chakraborty.
papia ghoshal, the international editor of 'the london miscellany' launched the present issue at bangla academy, kolkata on november 4, 2010.
recent past: exhibition may 21- september 30 , 2010: -
'tantra, the void'- 15 paintings of papia ghoshal
at divadlo ''husa na provazku''
a part of the main exhibition - ''Sangrila''. Brno
czech republic. organised by: livingstone
for press interviews/enquiries or collection of papia ghoshal's works (originals paintings, prints of paintings, poetry books, music cd by papia ghoshal, dvd of film made on papia ghoshal or bookings for concert of ''baishnav tantra'' please email
papiaghoshal@gmail.com
or
sms/call + 420 7310 86262
Recent past:
Faust Studio -
june 9 - june 15- papia ghoshal solo
may7 - may 31-
may 27- Dernisáž of papia ghoshal solo
''Tantra- the void space..'' at brooks gallery
náplavni 3, Praha
May 7, 2010
Launch of poetry book Ritur Dingulo in Czech version
launched by Dr. Hynek Kmonicek
papia ghoshal in - Art Prague May 10-16, 2010
Review: THE TELEGRAPH, kolkata, India
Tuesday, March 01, 2005
Corporeal art
A uniquely daring artist who specialises in the aesthetic representation of human forms, Papia Ghoshal comes across as a modern revivalist who triumphantly carries forward the illustrious tradition of the Renaissance masters. Forbidden Dreams, the ongoing exhibition of her paintings, appears as a series of observations of the human body, exploring its sexual grace, strength and sadness. Though pursuing the Western tradition of Michelangelo, Leonardo Da Vinci and Raphael, her nude studies present a surprisingly fresh view of masculinity. Ghoshal?s structural visualisations of the female form depend on more than spatial dimension and proportion to create in them an aura of power, vitality and spirituality. The sheer intensity of insight that she puts into developing her characters makes one certain that she paints not just what she sees but what she feels of the human body. Nevertheless, the strange, almost magical, transformation of her human forms goes beyond anthropology to enter the realm of poetic metamorphosis.
Event: An exhibition of paintings by Papia Ghoshal
When: Till March 4, 3 pm - 8 pm
Where: Chitrakoot Art Gallery, 55 Gariahat Road
PUBLISHED BOOK OF POEMS:


DAYS OF MENSTRUATION- 2003

TEXTUTATION(2007)a sms poetry dialogue between Papia Ghoshal and Christopher Arkell.
SECOND SIGHT - 2009
DAYS OF MENSTRUATION 2010
( CZECH & ENGLISH VERSTION)
WILD SMELL OF LANTANA 2012
AWARDS:
RABINDRANATH TAGORE AWARD : BY KARUVASH 2011
WORLD PRIZE OF SALVADOR DALI, 2009

EUROPEAN CIRCLE OF FRANZ KAFKA AWARD VENUE: KAFKA MUSEUM. PRAGUE DATE: APRIL 26, 2008

EUROPEAN UNION OF FINE ARTS AWARD
AT GALERIE MIRO, PRAGUE, CZECH REP. AUGUST 28, 2007


BHUNATH MUKHOPADHYAY AWARD
AT BANGLA ACADEMY , KOLKATA, INDIA, 2005
RECENT EVENTS:
GROUP SHOW PARTICIPATION
Academy of Fine Arts, Kolkata March 18, 2010
Indian Images: first leaf of spring,
March 5- April 7, 2010
BROOKS GALLERY, PRAGUE (DECEMBER 1- 31) 2009
GALLERY ATELIER - LA CAFE, DELHI (OCT 31- NOV 30)
LONDON MISCELLANY- MONSOON EDITION - LAUNCHED
at Bangla Acedemy, Kolkata,
on Oct 15, 2009 at Bangla
LAUNCH OF PAPIA GHOSHAL'S THIRD POETRY BOOK, 'SECOND SIGHT', ON OCT 15, AT BANGLA ACEDEMY, KOLKATA 2009
EXHIBITION AT GORKHY SADAN, SEPTEMBER 2009 ,KOLKATA, INDIA
RECENT PAST:
ONE MONTH EXHIBITION COMMISSIONED BY BROOKS GALLERY, AT GALERIE LAPIDARIUM- RAMOVA 6, PRAGUE -1
GROUP EXHIBITION STARTED FROM TUESDAY 4 AUGUST 2009.
group exhibition by commissioned by Brooks Gallery, GALERIE MANES, PRAGUE, ART PRAGUE 2009
LAUNCH OF LONDON MAGAZINE'S SPRING ISSUE AT THE LONDON BOOK FAIR, ON APRIL 22, 2009
PARTICIPATION IN EXHIBITION ORGANISED BY CELIA PURCELL GALLERY FROM APRIL 28, 2009
PAST EXHIBITIONS
THE HABITAT CENTRE, NEW DELHI, MAY 20-27, 2009
HOSTED BY THE CZECH EMBASSY DELHI.

THE GOETHE INSTITUTE, COLOMBO, SRILANKA

THE FOYER, INDIAN EMBASSY,

TAGORE HOUSE, INDIAN EMBASSY BERLIN alongwith ICCR, BERLIN. INAUGURATION: 27TH NOVEMBER 2008


GALERIE LAPIDARIUM:

PAPIA GHOSHAL, PRAKASH KARMAKAR AND YAKUB CHITRAKAR

NOVEMBER 3-NOVEMBER 23, 2008

GALERIE LA FEMME, PRAGUE,
14OCT-15NOV, 2008

NARODNI GALERIE: NATIONAL GALERIE, PRAGUE, INTERNATIONAL TRIENALLE OF CONTEMPORARY ART, 2008 (JUN-SEP 2008)


OBEROI GRAND MUMBAI, INDIA- July, 2008



group exhibition on 'Ganesha'2008-------------------------------------------

GALLERY ART DESH ( AUGUST 21-SEPTEMBER 15)


THE ART PRAGUE , MAY 2008,GALERIE LAPIDARIUM


ROUTES THROUGH BENGAL TO THE ROOTS OF INDIA
at THE NEHRU CENTRE LONDON.
also with sculptor Ramkumar Manna & folk scroll artist Yakub Chitrakar



SOLO EXHIBITIONS



AIFACS, NEW DELHI, FE
B 1-5, 2008, HOSTED BY INDIAN COUNCIL FOR CULTURAL RELATIONS, NEW DELHI
LAUDERDALE HOUSE, LONDON, SEPTEMBER 2007
GALLERY LAPIDARIUM, PRAGUE, AUGUST 2007
MANY COLOURS OF ASIA(REPRESENTING INDIA), PRAGUE,2007
JOHN BLOXHOM'S GALLERY, LONDON, 2006
WOBURN GALLERY, LONDON, 2006
ACADEMY OF FINE ARTS, KOLKATA, INDIA, 2006
ACADEMY OF FINE ARTS , KOLKATA, INDIA , 2005
CHITRAKOOT ART GALLERY, KOLKATA, INDIA, 2005
THE NEHRU CENTRE, LONDON, 2005
DIORAMA ART GALLERY, LONDON, 2004
GENDER STUDIES , PRAGUE, 2004
LALIT KALA ACADEMY , NEW DELHI, 2004
ACADEMY OF FINE ARTS, KOLKATA, INDIA, 2003
About Papia ....

Papia likes to see the distorted realities around
her through the filter of her personal fantasies. Being born in a traditional, orthodox Hindu Brahmin background, she has come a long way to express her mind and desires.

The artist Papia has a wide degree of creative latitude. She is a painter by PASSION.
All her expressions are strongly rooted, both in her paintings and her poetry. The most favourite word in her life is ' PLEASURE'. Her life is all about pleasure - pleasure in painting, drawing, writing, reading, designing, dancing, singing, cooking, photographs, theatre, films..or,
STEAM TRAIN DRIVING. She happens to do all these at ease, like a normal course of one's daily life and in each of these fields she is quite a remarkable example and name. She feels all these art forms are intrinsically linkedw ith one another and they have to be expressed when 'they' demand to be expressed.
The rare union of mind and fantasy finds expression in RITUR DINGULO (The Days of Menstruation), the book of poems by Papia Ghoshal, translated by English poet Christopher Arkell, in English. Her imageries not only overcome the dangers of excessive subjectivity, but also skillfully fashion her own laws as the architect a new feminine logic.


In her paintings Papia takes a free and open look
into the MALE WORLD. A bold and deliberate attempt to
break through the boundary between desire and reality.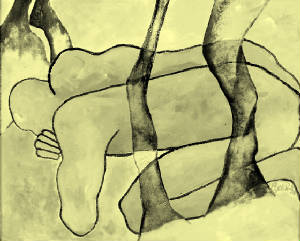 THE NAKED THINKER ( COLLECTED)
My new series of paintings, Flow, are a development of work done for my collection of poems, Days of Menstruation, published in January 2003.
The poems which eventually formed that collection were the result of a long meditation on the meaning of femininity. I drew, of course, on my own experience as a woman, whose flow of blood islands her each month from the males around her. Yet my experience and the clarity it brought to the way I saw myself in my world, was also the experience of every woman born, and of no man whatsoever.
A woman's menstrual flow is so easily seen as a river of separation by men. They have traditionally interpreted it as a sign of our weakness, our uncleanliness, our humiliation. For that we have suffered purdah, and forms of imprisonment not only physical but mental. Only very recently, in some parts of the world, have we begun to break out of such confinement, but our liberation has, in truth, scarcely begun. Menstruation is a word which can still, even in the year 2009, infuriate and disgust men who are considered by society at large as 'liberal', 'sensitive', 'educated'. Through images which the menstrual blood inspired and which it opened for me – because of its power, its pain, its refreshing flow – I tried in the poems of Days of Menstruation to offer for any woman reader an escape out of the mental cage in which we have all for so long been locked, and also to show all readers, female or male, the transformative qualities that I felt are present in the menstrual cycle.
The Flow series takes the ideas from my poems and combines them with the paintings I have been making in the last seven years. Each of these new works is painted using my own menstrual blood. I have thus drawn from my very core images of the world around me. An art critic once described my artistic approach as 'transcreative'. I think this is an apt word to apply to my new process. I am transcreating my inner self, at its most intensely female, into the sinews and muscles and rhythms of the world we all share, thus feminising it beyond the interpretive reach of the male. I have also shaped penises from my own blood, with a deliberate intention of imposing my creative dominance on this most widely worshipped symbol of male authority.
I believe one or two female artists have already worked in the medium of their menstrual blood before; but I think I am the first to mix into my blood – in a further exploration of the transcreative processes which so fascinate and empower me – the flow of male semen ejaculated specifically at my behest for me to paint with. That union of blood and semen is for me one of the few that approaches real gender equality.
I offer my Flow paintings to women everywhere – as tokens of our determination to gain a true and permanent liberation from our age-old confines.
Papia Ghoshal
Ó Papia Ghoshal February 2003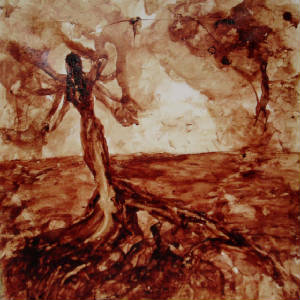 mentruating durga- ($ 10 000)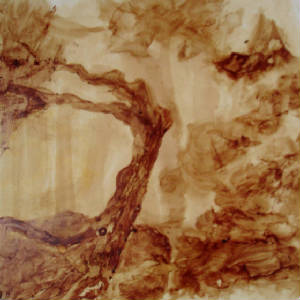 tantra dance ( $ 10 000)
I have been an admirer of Papia's work ever since they were first exhibited at the Nehru Centre in London in 2005 when I was its Director. Apart from her natural talent as a very skilled painter, she is also deeply immersed in the mythologies of her soil. The result is that her paintings have a very powerful message. I am not an art critic, but I have been sufficiently exposed to the best in art to say that in Papia we have an exceptionally gifted artist and a human being who has the courage of her convictions. I have little doubt that she will be recognised in due course as one of India's finest artists.

PAVAN K VARMA

DIRECTOR GENERAL, ICCR, NEW DELHI.

FORMER DIRECTOR, THE NEHRU CENTRE LONDON.

Indian Ambassador to Bhutan
The human body is a temple; it is always, also, a prism through which the different shades of society can be perceived. In Papia's work one can sense the twin aspects of devotion and investigation, as exemplified by the creative interpretation of the male anatomy. The vibrant use of colour as also the creative distortion of the human form endows the paintings on view with a mesmeric quality.
These are strange forms, weird even, and Papia is unashamed to flaunt their singularity, combining and coalescing their inherent shock value with a quietly philosophic exploration into the transience of a fragile, post modern world. On occasion, geometric balance and a meticulous attention to detail has dovetailed into a more fundamental exposition of the nature of human existence.
Papia's paintings have an experimental quality; at the same time, there are some universal values which she upholds, preferring to combine traditional motifs with a creative interpretation of sexuality. In effect the provocative nature of the works on view leads to a kind of cerebration, a rare phenomenon in today's world.
In everything, Papia shows the courage to invent and interpret without becoming a slave to tradition.
ASHOKE VISHWANATHAN
Filmmaker.
The Explosive Paintings of Papia Ghoshal
A revolution has been under way for quite sometime- a revolution in human relationships, attitude, moral, institution, perspective. It has yet to find sufficient expression in the organised life of societies and nations. However, its presence and power may already be felt in music, literature and Fine Arts, which are the antennae of the race.
I sense in Papia Ghoshal's paintings vivid intimations of the revolution. They are a total rejection of the patriarchal or male-dominated complex of taboo-ridden cultures and civilizations that have in force for several millenia.She rejects all taboos and imparts to her visualisation of sexuality on canvas the power and pain, an ecstacy and agony, the thrust and the tortuousness, the mystery and the ''bad faith'', that this primal desire of our existence contains inalienably within itself.
Papia seems to have chosen as her signature KALI, the fearless nude goddess of freedom and power, the timeless dancer whose wild looks rule the winds of heaven, at whose feet lies her consort SIVA who, in the patriarchal scheme, was the omnipotent Lord of all space and time, the quick and the dead. Shorm of his reveals its amazing resources to the equally resourceful and dynamic Yoni. Papia has worked on this explosive theme with a rare sensitivity and a remarkable command over line and colour. I admire her daring nearly as much as technical skill and evocative power.
Lt Dr. Sibnarayan Ray
Former chairman, Indian Studies, Melbourne UniversityFormer Director, Rabindra-Bhavan, Visvabharati University Emeritus Fellow on LiteratureDept. of Culture, Govt. of IndiaFormer Chairman, Raja Rammohan Roy Library FoundationFounder-Editor, Jignasa, a journal of ideas and enquirySenior research Fellow, Indian Council of Historical Research.
There are paintings I delight to see again and again in the museums, there are paintings I wish I could have on my walls at home and there are paintings that live in my heart. These last are by Papia Ghoshal, a uniquely daring and confident Indian artist. Display of her recent works were built around her series ''world of forbidden dreams'', a sequence of meditations on the male body, exploring its sexual grace, power and sadness. There is nothing new or surprising in representing the male nude, in the western tradition, after Phidius Michael Angelo, Leonardo, Raphael or Hockley, it is`extra ordinarily hard to present a fresh view of maleness. But this is exactly what Papia has done by painting, what she feels of amale bosy not what she sees.

Her intensity of insight, its rigour, its purity- shows in the transformation she makes of the male form.

Transformations are the main springs of Papia's vision. The viewer too is transformed by their sheer energy and wilness. I have seen nothing quite like this before. Papia has, in effect visualised the poetry of metamorphosisusing the male boy as her magic wand. She is in a line of direct descent from Ovid, the great poet of Augustan Rome. Papia is imbued with same transformative genius. Once seen her metamorphosis continue in the mind and I for one , am priviledged to have her works not just on my walls but also rooted firmly in my heart....

Christopher Arkell

Poet, Publisher & Editor in Chief

The London Miscellany